On delegating your founder's responsibilities
March 1, 2023
Whenever your company starts growing and you start hiring more and more people, almost every management book will tell you to start delegating, putting your team more in charge. But what they often fail to mention is that this is probably one of the most challenging steps to take as a founder, and maybe not even the right thing to do at this point in time. Another great fallacy is, that this starts with hiring and onboarding people on your responsibilities, this is completely wrong and will end up costing you tons of time and money.
You really need to start with yourself. Look inward and answer questions for yourself before doing anything else:
What are my current responsibilities?
Which of those responsibilities are most crucial to the success of the business?
How much time am I spending on each?
Which of the responsibilities do I enjoy most?
How easy is it to delegate this responsibility away? Do I need to hire or can an existing team member take this up?
Where would I spend the time that would be freed up when you would delegate this away?
Add the answers in a grid, and score each of them: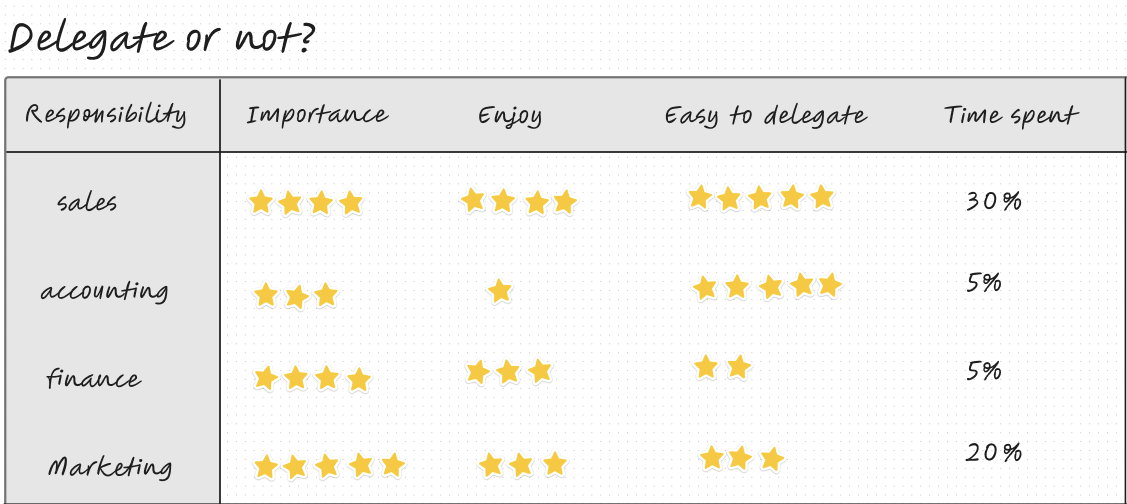 Now, it's important not to overthink this, as a founder you're probably all over the place. It's important to write down the areas that require your constant involvement. The importance should also factor in your current challenges in the company. If you just hired a Finance Manager and all is going well in that area, don't write it down, you've already delegated that. Or if the product team requires your involvement, but it's actually running quite smoothly, skip that one as well.
Now, you add another column to the grid, where you write down where you'd spend your freed-up time, this can be new areas that you've been struggling to spend time on but you find crucial for the business. Also, add these areas below to the grid and score the importance: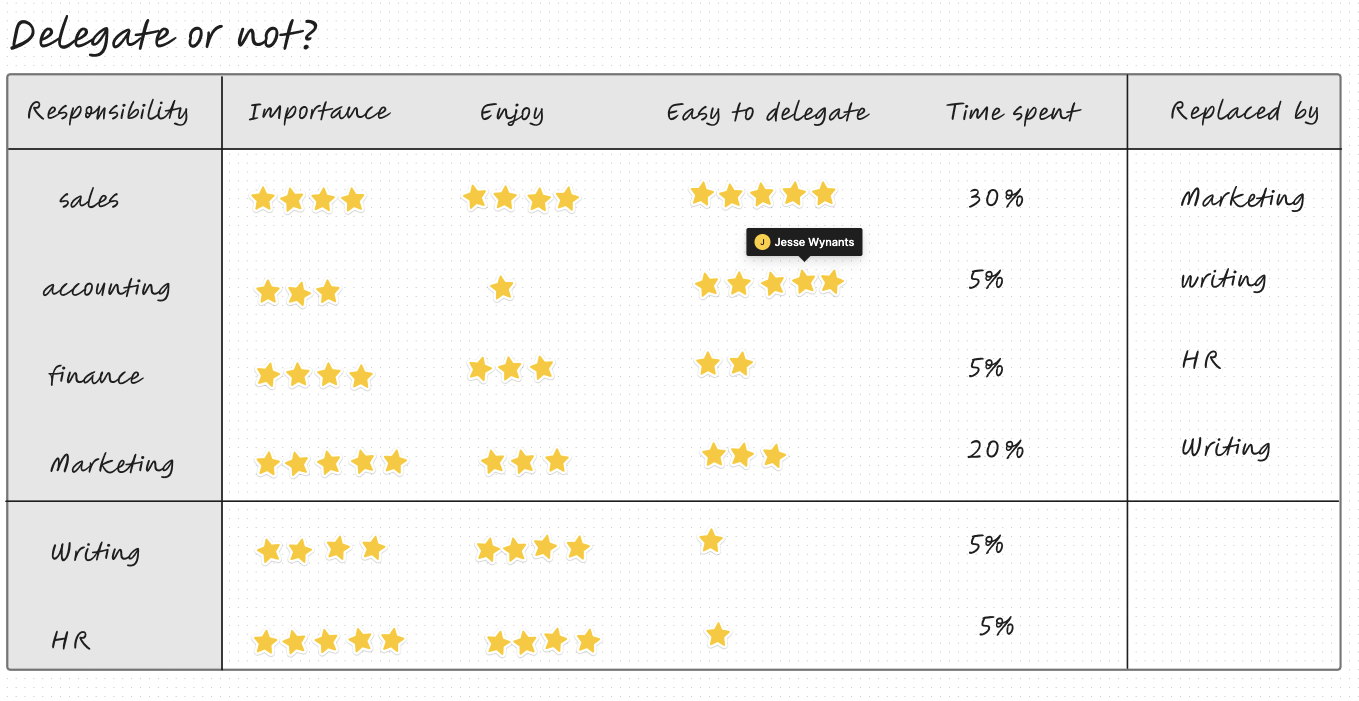 Now with this exercise done, you should start getting some ideas:
Start with the responsibilities you don't enjoy and are easy to delegate. You shouldn't hesitate on those, even if the time you spent isn't that much, time compounds.
Never try to replace something you enjoy doing, with something you don't really enjoy. You'll naturally be drawn back into it.
The areas that are almost impossible to have someone else fully take over (like HR or writing) need your time, especially if you consider them important for the future of your company.
This is a snapshot in time and will be evolving almost every month as your team grows and your business evolves, so it's important to regularly keep doing the exercise (even if it's just in your head). Also, don't hesitate to make your own version of this grid, I've had a version with a column "How well suited am I to do this role?", but this is really your choice.
Let me know how it goes on Twitter.